Uzbek delegation calls upon Secretary Commerce, seeking to enhance trade relations between the two countries
Islamabad the 19th April, 2018
A high-ranking Ministerial delegation from Uzbekistan lead by Uzbek Minister for Foreign Trade Mr. Khodjaev Jamshaid called on Mr. Mohammad Younus Dagha, Secretary Commerce and officials of the Ministry at the Ministry of Commerce on 19th April, 2018 from 1100 hours to 1200 hours.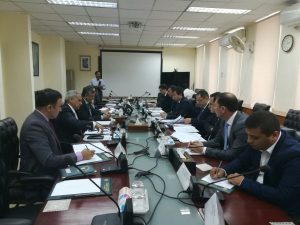 Uzbek delegation also included Mr. Adham Ikramov, Chairman CCI of Uzbekistan, Mr. Bahadir Alihanov, Deputy Chairman of Association "Uztextile Industry", Mr. Alisher, HoD, International Cooperation, Ministry of Foreign Trade, Mr. Azamat Yuldashev, Director on Production and Investment of JSC "Uzagrotechmash"(Agricultural Machinery), Mr. Murad Bekmirzaev,, Deputy Head of Marketing Department of JSC "Uzagrotechmash"(Agricultural Machinery) and Embassy officials.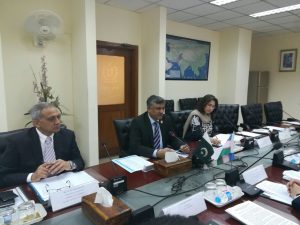 During the meeting, both sides expressed the desire to enhance trade relations between the two countries. It was resolved that all out efforts would be made to remove impediments hampering bilateral trade including lack of direct cargo links, safe and direct land route, removal of NTBs and efficient and effective banking channels.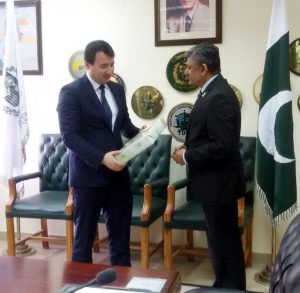 It was agreed that institutional mechanism between both the countries needs to be upgraded. The Secretary Commerce, Mr. Mohammad Younus Dagha proposed to form Joint Working Group on Trade and Investment. The Uzbek Minister immediately agreed to the proposal. It was decided that the ToRs, composition and agenda of the first meeting would be exchanged at the earliest possible instance. Afterwards the dates and venue of the 1st meeting of JWG either in Pakistan or in Uzbekistan would be decided.