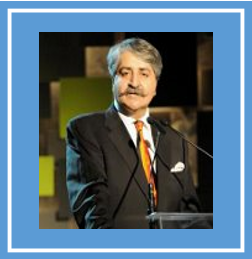 Brief Profile
Syed Naveed Qamar belongs to a renowned political family of Sindh. His grandfather, Syed Miran Muhammad Shah, served as the first Speaker of the Sindh Assembly in 1947. His father, Qamar Zaman Shah, actively participated in politics and served as Deputy Speaker of Sindh Assembly, and Senator during Prime Minister Zulfiqar Ali Bhutto's Premiership.
Educational Accomplishments:
He holds a Bachelor's Degree in Computer Sciences from Manchester University, UK followed by Masters in Management from Northrop University, Inglewood USA and an MBA from California State University, Los Angles USA.
Political Career and Legislative Achievements:
Mr. Qamar started his political career as Member Sindh Assembly in 1988, and became Minister for Information. Later-on, in all the general elections held in Pakistan in the years 1990, 1993, 1997, 2002, 2007, 2013 and 2018, he has continuously secured his seat as a Member National Assembly of Parliament.
He is the senior leader of Pakistan's most popular political party 'Pakistan People's Party' and holds the position of Parliamentary Leader in the National Assembly of Pakistan and Member Central Executive Committee in the party.
He has the honor of working with Prime Minister Benazir Bhutto and President Asif Ali Zardari as Federal Minister for Defense, Finance, Water & Power, Petroleum & Natural Resources and last but not the least Privatization.
He very regularly and actively participates in the Legislative Business of Parliament of Pakistan and has served in many different capacities most recently as Chairman Standing Committee on Commerce and Textile, Convener Public Accounts Committee, Member Standing Committees on Finance and Law & Justice. Currently he is holding the Portfolio of Federal Minister for Commerce, Government of Pakistan.
His role in all the important Constitutional amendments especially in 18th, 19th and 20th Constitutional Amendment is remarkable and an integral part of Parliamentary history of Pakistan.
Role in Supporting and Strengthening Nascent Democracies:
He is the convener and member of a number of Parliamentary Friendship Groups including Pakistan-Hungary Parliamentary Friendship Group. The idea of Parliamentarians for new South Asia under civil society organization's campaign Imagine New South Asia was coined by him. He is not only permanent executive board member of Parliamentarians for Global Action (PGA) but also currently presiding over its International Council, as Chairman, an elected position in a body of parliamentarians from over a hundred countries with elected assemblies, in addition to being founder Convener of International Peace and Security Programme under the umbrella of PGA.
Intellectual and Social Contribution:
He is Member Board of Governors of Pakistan's premier policy think-tank Sustainable Development Policy Institute in addition to his contribution in Pakistan Institute of Parliamentary Services as a Director on its Board.
Syed Naveed Qamar is author of a number of papers prepared for National & International Seminars, Conferences and workshops.
He also takes keen interest in Social Sector Development and has shown highest degree of commitment in this regard both locally and internationally.