Ministry of Commerce – Celebrating Excellence in Sports Goods Manufacturing
A ceremony was organized by Ministry of Commerce, at the Prime Minister's office, for the launch of Emerging Pakistan in Islamabad as well as celebrating Telstar 18, which is the official football for the FIFA World Cup 2018. Pakistan is delivering football for the FIFA World Cup 2018, which will be held in Russia this summer. Forward Sports, a firm from Sialkot is manufacturing the 'Telstar 18'. The same firm manufactured 'Brazuca', the official football for the FIFA World Cup 2014, which was held at Brazil.
Pakistan annually exports around 40 million footballs and in 2017-18(10 months) Pakistan exported footballs worth US$ 122 million which are 10% higher than 2016-17. In recognition of the competitiveness and innovation of the Forward sports. The Prime Minister announced that he has recommended Khawaja Masood Akhtar,CEO of the Forward Sports for conferring Sitara-i-Imtiaz.
The contribution of the Pakistan Sports Goods Manufacturers and exporters Association of Pakistan(PSGMEA) and Sialkot Chamber of Commerce and Industry was also acknowledged and appreciated by the Prime Minister.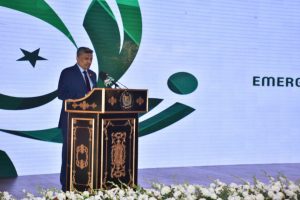 Secretary Commerce introduced the audience with the concept and implementation of "Emerging Pakistan" initiative of Ministry of Commerce. He elaborated that the Hon'ble Prime Minister of Pakistan unveiled "Emerging Pakistan" initiative on 9th November 2017 during Expo Pakistan in presence of over 700 foreign delegates from 85 countries at Karachi. He highlighted the cost and dividends that are attached with the image of a country. He informed the participants that one critical cost of doing business is the "brand image" of a country i.e the perception about a country. He stated that we do not want to be misrecognised by others so we need to share our recognition through a vibrant outreach initiative of "Emerging Pakistan".  A country's less favourable image puts additional cost on the businesses operating from a country, making it less competitive in comparison to the businesses in other countries. Hence the Ministry of Commerce initiated the campaign of nation's image building with brand of "Emerging Pakistan." The Secretary highlighted that  Ministry of Commerce is now marketing Pakistan's positive image apart from marketing goods and services at expos and exhibitions. The initiative is mainly sharing stories about art, culture, tourism outstanding individuals and vibrant ideas.
A large number of Ambassadors, high commissioners, parliamentarians, representatives of leading chambers and trade associations, exporters of sports goods and other dignitaries attended the event.