Afghan delegation led by H.E. Ms. Kamila Sidiqi Deputy Minister for Commerce and Industries calls on Secretary Commerce seeking to enhance trade relations between the two countries
Islamabad, the 8th May, 2018
A high-ranking Ministerial delegation from Afghanistan led by Deputy Minister for Commerce and Industries, H. E. Ms. Kamila Sidiqi had meeting with Mr. Mohammad Younus Dagha, Secretary Commerce and officials of the Ministry at the Ministry of Commerce on 8thMay, 2018. Mr. Fazal Abbas Maken, Secretary, National Food Security and Research and officials of Ministry of National Food Security and Research, Federal Board of Revenue and Foreign Office were also present during the meeting.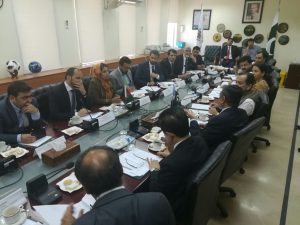 Afghan delegation also included Mr. Hamdullah Hamdard, Deputy Minister for Agriculture, Irrigation and Livestock, Mir Saeed Saeedy, Director General, International Trade, Ministry of Commerce, Mr. Khan Jan Alakozai, Head of Afghan Chamber of Commerce and Industry, Mr. Najibullah Wardak, Deputy Director, Income, Ministry of Finance, Mr. Ahmed Shakir Qarar, Deputy Director, First Political Department, Ministry of Foreign Affairs, Mr. Edrees Raouf, Cotton Specialist, Ministry of Agriculture, Irrigation and Livestock and Embassy officials.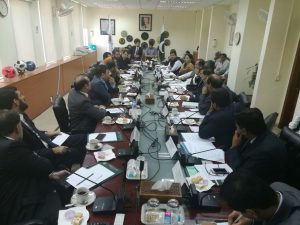 During the meeting, both sides expressed the desire to enhance trade relations between the two countries by overcoming existing challenges. The discussion largely hinged on the SPS/Quarantine certification and removal of regulatory duties on selected items like fresh fruits and vegetables, dry fruit, etc. to facilitate Afghanistan's exports to Pakistan as announced by the Prime Minister of Pakistan during his recent visit to Afghanistan. Deployment of Department of Plant Protection personnel on various border crossings was also discussed and the Secretary, Ministry of National Food Security and Research informed the Afghan side that the personnel have been deployed at Chaman and Torkham initially and other border crossings will also be facilitated in due course.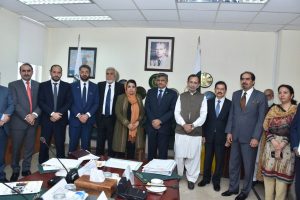 It was agreed that the institutional mechanism between both the countries needs to be strengthened and the holding of much awaited 7thAfghanistan Pakistan Transit Trade Coordination Authority Meeting by the Afghan side was the need of the hour. It was resolved that all out efforts would be made to remove impediments hampering bilateral and transit trade. The two sides will increase interaction at technical and policy levels for the prompt resolution of issue from time to time. The Afghan delegation thanked the Pakistan Government for their hospitality and for accommodation of the concerns of Afghan traders and farmers.